Check out all the places HIKE for Mental Health is showing up…
'Journey of a thousand miles' comes to an end
Pringle's hike for mental health: October 1, 2019. Sarah Jane Hatfield, a former graphic designer at The Mountaineer, embarked on a thru-hike of the Appalachian Trail. During her journey, she sent dispatches from the forest, which were published each Wednesday. This is her final dispatch.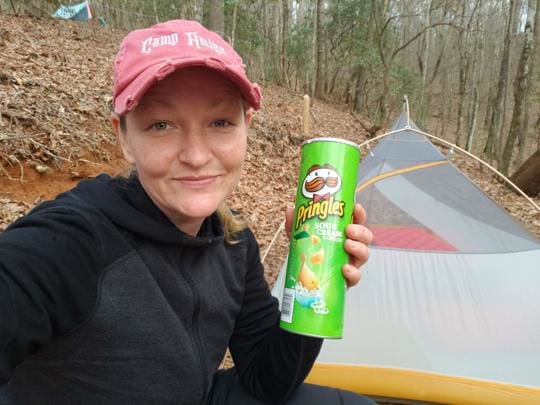 Kokomo Perspective
Hiking through: August 20, 2019. First hiker to trek the Lakes-to-Ocean Trail straight through makes stop in Kokomo on her HIKE for Mental Health.
Biddeford Journal Tribune
Biddeford hiker completes Appalachian Trail walk to benefit charity: October 3, 2018. A Maine resident raises $12,000 for mental health awareness, research while completing a 2,000 mile journey.

Weirton Daily Times
HIKE for Mental Health welcomes local participation: September 15, 2017. Read about how to join or donate to Michael Wood's planned HIKE for Mental Health in Fernwood State Forest in September.

Post-Bulletin, Rochester, Minnestoa
Hiker hopes to inspire others: February 12, 2016. Heather J. Carlson writes about hiker Leland McKeeman's plans to raise funds for mental health research with his 2016 Appalachian Trail thru-hike.
nooga.com, Chattanooga, Tennessee
Hike for Mental Health planned for Lula Lake: September 23, 2015. A great article by Sean Phipps about a hike organized by Emily Ellis and Cassidy Wolfe.
The Easley Progress, Easley, South Carolina
Hike of a lifetime: September 8, 2015. Piedmont man Jason Baab treks across country for brother.
Prince George Citizen, Prince George, British Columbia
Man tackling Appalachian Trail to raise money for mental health: July 26, 2015. Leland McKeeman aims to raise $21,810 for mental health services with his 2016 Appalachian Trail hike.
Tri-State Ramblers, Morristown, New Jersey
2014. Pat Horsch published the following article in the newsletter of the Tri-State Ramblers.
Fox17 West Michigan
Man plans 2,600 mile journey to honor brother: October 14, 2014. Jonathan Lundy plans a five-month wilderness trek from Mexico to Canada in an effort to honor his late brother and raise money for those suffering from mental illness.
The Huntsville Times
Jacksonville couple beginning 6-month Appalachian Trail hike to raise money for mental health: June 27, 2014. Michael and Kelly Looney describe their plans to thru-hike the AT beginning in July and why they are including HIKE for Mental Health on thier journey.
Rutland Herald
Fundraising hike for mental health set for Saturday: May 30, 2014. A Vermont hike organized by Zach Cavacas is featured in this article which ran in both the print and online editions. In the article, Zach, who is a great guy and one of the first to volunteer to lead a hike for us, very modestly says, "I'm just going to guide people up the mountain." No, Zach, you are doing a lot more than that. Thank you for bringing HIKE for Mental Health to Vermont. Note: To view the online edition of the newspaper requires a subscription or a $1 day pass.
SCV News
Nature Center Hosting Hike for Mental Health: May 23, 2014. Volunteer hike organizer Laura Skorich talks about her HIKE for Mental Health at Placerita Nature Center, our first hike in California.
Monadnock Ledger-Transcript
Heed the Call of the Trail:  The April 3, 2014, article describes Charlotte Miller's upcoming hike on the Appalachian Trail and the role HIKE for Mental Health plays.
Statesville Record & Landmark
HIKE for Mental Health coming to Iredell: A front-page article on March 10, 2014, about Joanna Davis's Lake Shore Trail Hike compares HIKE for Mental Health to Susan G. Komen for the Cure.
York Daily Record, YDR.com
On Appalachian Trail hike, Dover man Drew Harlacher hopes to raise money to combat mental illnesses: Dover's Drew Harlacher to hike 2,180 miles to raise funds to prevent, cure mental illnesses.
AT Journeys, The Magazine of the Appalachian Trail Conservancy
A Tale of Two Towns: See the photo by Donna Chapman on page 33 from our Cat Rocks and Great Swamp hike, co-sponsored with the Harlem Valley Appalachian Trail Community.
WFLA Daytime
15 Year Old Appalachian Hiker: Listen to Neva Warren's interview on WFLA.
Our Town
Maywood Native Leads Walk for Vets: The local paper in Maywood, New Jersey, talks about Tom and the annual Veterans' Day Walk.
Blue Ridge Outdoors Magazine
The Youngest Solo Thru-Hiker: 15-Year-Old Completes Appalachian Trail: Neva talks about HIKE for Mental after becoming the youngest solo Appalachian Trail thru-hiker.
The Bangor Daily News
Girl hikes through Maine to become youngest solo Appalachian Trail thru-hiker: Neva talks about HIKE for Mental on her hike through Maine en route to become youngest solo Appalachian Trail thru-hiker.
The Pocono Record
Chipmunk's 2,180-mile quest: 15-year-old Neva Warren talks about HIKE for Mental Health on a stop in Delaware Water Gap on her way to becoming the youngest solo thru-hiker to complete the Appalachian Trail.
New York New Jersey Trail Conference
HIKE for Mental Health Raises $1,500 for Trail Conference: HIKE for Mental Health presents check to NYNJTC.